The Best Patio and Yard Makeovers We've Seen So Far This Year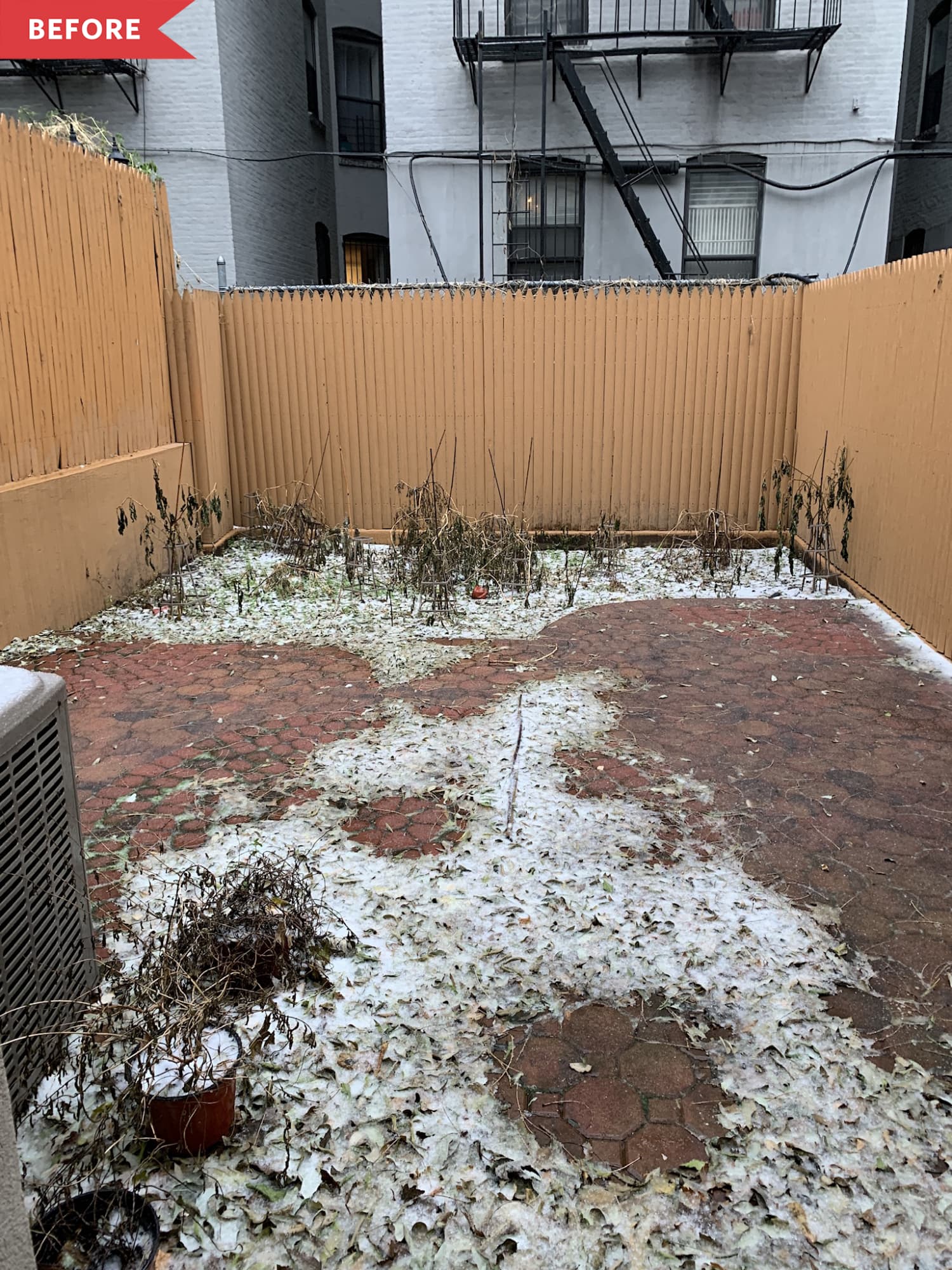 If there's ever a time to appreciate your patio or outdoor space, it's this year. Once people around the world were forced to stay home this spring and summer amidst quarantines and other restrictions relating to COVID-19, it didn't take long for outdoor renovations to take priority. After all, if you're lucky enough to have some outdoor space to call your own, you want to be able to make the absolute most of it.
As the masses flocked to Pinterest for budget patio ideas at the beginning of spring, Apartment Therapy readers wasted no time getting down to business and turning their own outdoor spots into staycation resorts. There were plenty of great picks, but this batch stood out from the pack. Here, the 10 best patio and yard redos we've seen so far this year.
1. A $500 Redo Turns a "Blah" Patio into the Perfect Hangout
Madison Bess of The Blushing Bungalow took her "blah" Florida patio and turned it into an adorably happy escape with $500 and a curiosity for color. She used a stencil to paint a concrete slab to resemble an outdoor rug, repainted her old furniture, and added new cushions. It doesn't sound like a lot and it certainly didn't cost an arm and a leg, but the final product is a surprisingly colorful entertaining space.
2. A Dark, Muddy Storage Area Becomes a Dreamy Backyard Escape
When Tabitha Sewer and her family had to cancel their cruise plans due to the pandemic, they decided to transform their backyard into a staycation dreamland instead. The project took about 10 weeks to complete, cost around $3,500, and besides laying the concrete foundation, Tabitha and her husband did everything themselves—laid tile, sod and grass, custom-built a loveseat, hung string lights, and covered a brick wall with artificial boxwood. They even hung a swing!
3. A Simple and Stunning Patio Redo Makes Color the Star
Marilyn Jonckheere was used to focusing her attention on the inside of her apartment in Brussels, but once COVID-19 forced everyone into their homes, Jonckheere realized she needed to maximize her private patio space. Inspired by a recent trip to Mexico, she knew she wanted to bring in some color. In two days, she pressure-washed, painted the walls a tomato red and added a ton of plants—making this space a true showstopper.
4. A $2,000 Redo Turns a Run-Down Patio into a Breezy Hangout
When Vida Cornelious moved into her Harlem rental, she knew she would cherish the outdoor space someday, but it was going to take a little work to get there. Vida cleared out all the weeds and hauled in 1,800 pounds of sand to level out the surface. Then she had grass installed and painted the fence black before moving on to furniture. After a month of hard work and $2,000 well spent, she can now enjoy her "Harlem Boheme" outdoor living room.
5. This Rental-Friendly Patio Redo is a Plant-Lover's Dream
Bev Wilson, of Room Sauce, and her fiancé took their plain Brooklyn brownstone patio and turned it into a private plant-filled oasis. Since their outdoor space faced the street, they found they weren't using it as much as they'd like. By creating a privacy well with some bamboo fences, zip ties, and faux greenery, they were able to transform this patio into a little green oasis.
6. A Plain Patio Becomes a Mediterranean-Inspired Oasis
Naveen Shakir of The Design Souk took a friend's awkward 180 square foot L-shaped patio and turned it into an entertaining haven. By separating the space in two sections: one for dining and one for relaxing in an L-shaped sectional, Naveen was able to maximize this rental's patio space. The real show-stopper? The black spray-painted pergola made by a local carpenter.
7. A "Daunting" Patio Becomes a Peaceful, Pergola-Shaded Escape
Speaking of pergolas, Timisha Porcher and her husband transformed their uninviting backyard into a perfect hangout spot equipped with a Toja Grid pergola, an outdoor rug, string lights, table fire pit and fresh chair cushions. The whole project took about four weeks to complete and the finished product is a welcome escape.
8. A Cheery One-Day Mini Patio Makeover for Less Than $100
Who says you need a lot of time and money for makeover? Zoe Hunt, of Crafted by the Hunts, proves that you can totally transform the vibe of a space in one day with less than $100 in this mini patio makeover at her mother's home. She spray painted the lawn chairs a crisp white, built a small table, and added an umbrella and flowers. With just a little bit of effort, the space now looks like a perfect spot to enjoy a summer afternoon.
9. A Run-Down Patio Becomes a Tropical Escape for $1100
Saima Sharoff and her husband took their time renovating their previously unusable outdoor space connected to their 1930s Southern California home. The whole project was done in a few sections over a few years, but the final product is seriously impressive. They painted the siding a bold color, built a deck, added furniture and plants, all for around $1100. The cherry on top? During the renovation, they discovered they had grape vines growing along the side of the house that they now get to enjoy year after year.
10. This Backyard "Mud Pit" Gets a Functional—and Beautiful—Redo
Jennifer Grammer turned her previously unusable backyard into a cozy, beautiful outdoor living room that her entire family can now enjoy. The project took about three weeks and a good bit of elbow grease cleaning out overgrown plants and leveling the area prior to installing posts for a shade sail, which she then decided to nix and go with a pergola instead. In the end, it was the right choice. By repurposing the furniture she already had, the space is now a wonderfully cozy spot that Jennifer and her family can't get enough of.
Published at Thu, 10 Sep 2020 20:00:06 +0000