The 12 Most Useful Registry Items Now That We're All Home More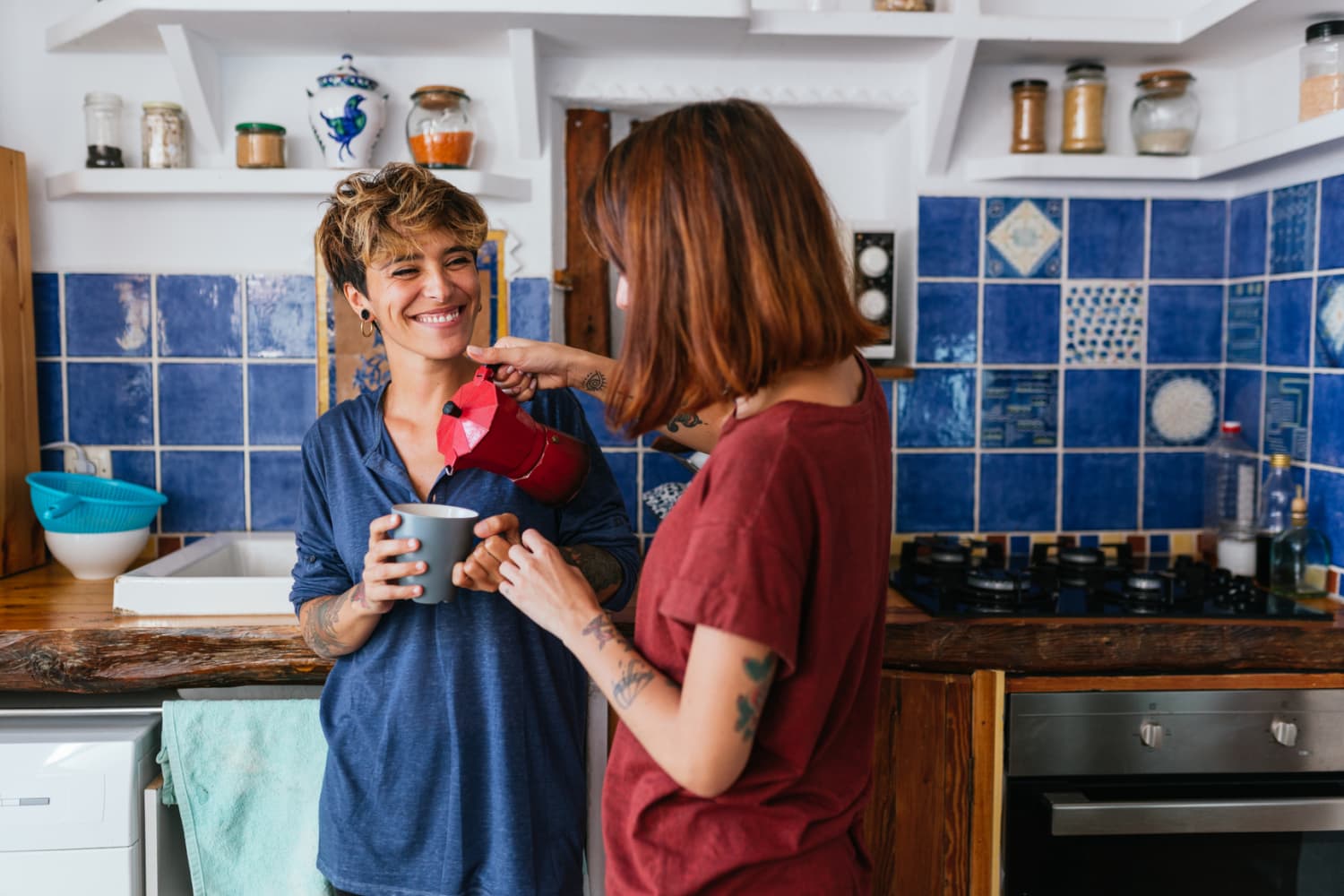 Due to the COVID-19 pandemic, the mix of items that soon-to-be spouses are filling their wedding wish lists with might look a little different than in the past.
Designer luggage, leather passport holders, and monogrammed luggage tags probably won't get as much use as they would have in 2019, while asking guests to contribute to a Honeyfund for a trip that might not happen (at least not right away) is a real downer. And who needs a set of 12 champagne flutes or a serving platter when the only company you've been entertaining lately is your partner and your dog?
Whether you're itching for recommendations as you continue building your registry, or just want some motivation to finally take a certain wedding gift out of its box, look to the 12 recently married folks below. They shared the registry products they've been loving as they've been homebound over the last six months.
"The waffle maker I received has been a true treasure. During these times where isolation has been an unfortunate theme, it is really nice to be able to make this breakfast comfort food. There is nothing quite like a homemade waffle topped with a dash of butter and drizzled with pure maple syrup." —Jennifer E., Freeport, New York
"COVID has really disrupted our routine. … Being able to make flavorful and convenient coffee has been a lifesaver, though we can't wait to get back to our Dunkin' runs!" —Alyssa K., New York City
"The registry gift I've been loving during the pandemic is our yellow mixing bowls. They're super durable, and I've had many days working from home where I decided to use them to make breakfast for dinner (pancake style!). My husband's favorite pancakes are banana chocolate chip." —Stephanie K., Morristown, New Jersey
4. A set of pots and pans
"We've been doing more cooking at home, so we've been using our pots and pans and baking tray sets more. Our 2-year-old daughter loves to help! One of her favorite things is chips and queso or chips and guacamole." —Samantha E., Newark, Delaware
"Our sous vide has gotten a lot of use over the last few months. My husband likes it because, unlike our unpredictable oven, the sous vide takes the guesswork out of cooking. Food cooks to the perfect temperature every time! It's great for making easy meals during the week." —Annie K., Arlington, Virginia
"Our air fryer was a game changer when we couldn't go out to get bar wings. We would pop those in there and put our beers in pint glasses. A night out without having to be around other people? My favorite." —Molly D., Denver
"My husband started using our bread maker for the first time to experiment with making bread. I was very impressed the first time he used it because we didn't have all the right ingredients and he just threw stuff in and it wasn't terrible! He's gotten pretty good at making rosemary bread, and he made a cinnamon raisin bread once that we ended up using for French toast, which was delicious!" —Leah D., Windham, New Hampshire
"We have definitely used our cocktail shaker more than ever during quarantine. All the virtual happy hours with coworkers, friends, and family have made us much better bartenders." —Amanda F., Yardley, Pennsylvania
9. All kinds of drink makers
"We are so thankful for our blender—it's been perfect for our morning smoothies and Friday frozen margarita night! Above all, our favorite and most used item has been the wine decanter." —Anisha K., Hampton, Virginia
"My husband and I have been spending a lot of time at home on the couch binge-watching movies on Netflix. We are super thrilled with our … popcorn maker. It makes the experience so much more like being back in the movie theaters." —Amanda P., North Bellmore, New York
"We are finally using our picnic blanket and basket. We had two dates in the park and are using it for social distancing with friends outside." —Rachel B., New Hyde Park, New York
"Without being able to travel, our beach chairs and umbrella are being put to use on the weekends [at the local beach]. No sunburns this year!" —Matt S., New York City
The Apartment Therapy Weddings vertical was written and edited independently by the Apartment Therapy editorial team and generously underwritten by Crate and Barrel.
Published at Tue, 15 Sep 2020 21:00:06 +0000