Before and After: This "Hottest of Messes" Bathroom Gets a $257 Refresh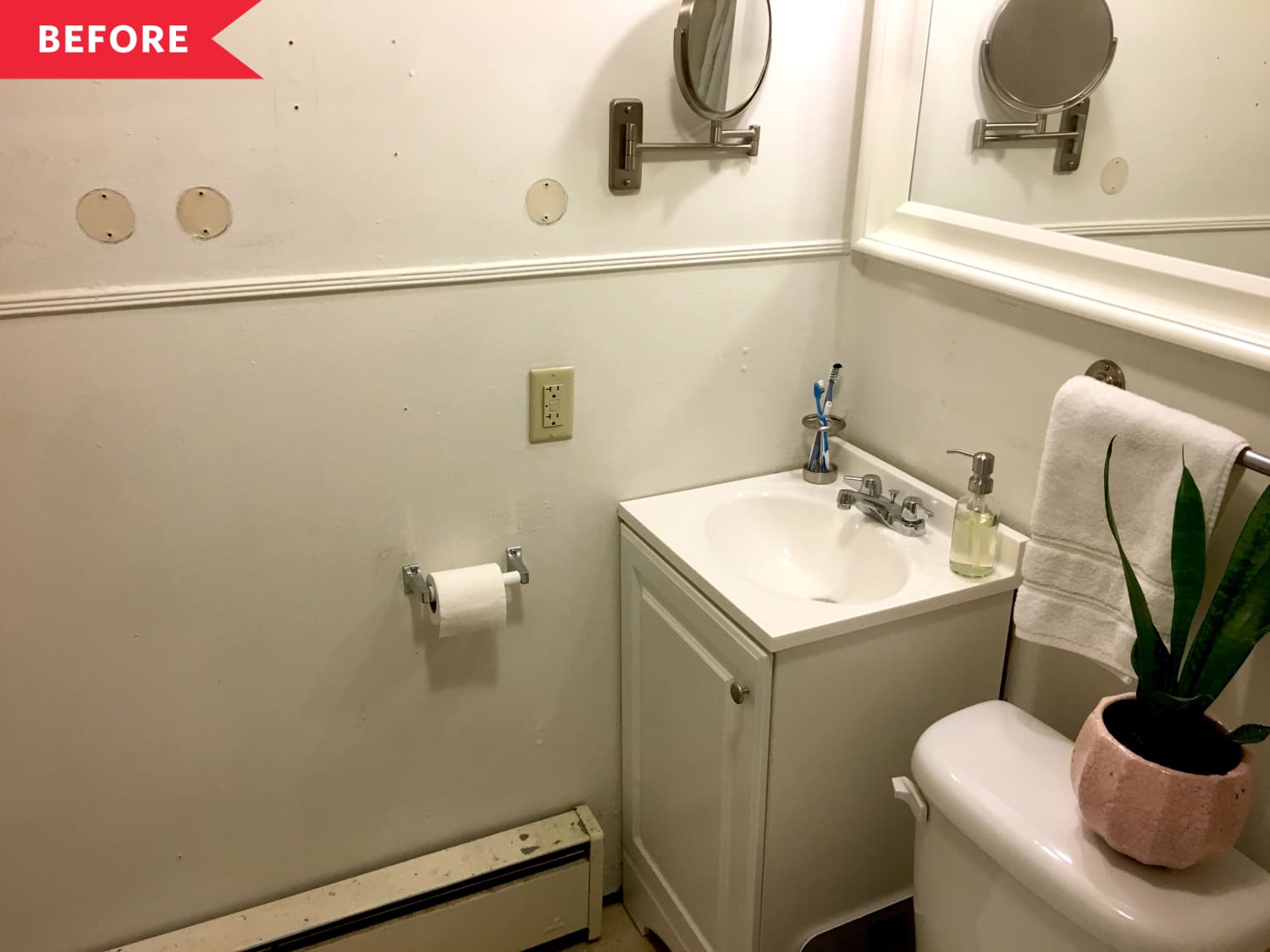 An aging bathroom can be particularly tricky when it comes time to clean, since finishes that have discolored over time always give the feeling that you've left some dirt behind. That's one issue that faced Keela Thomson in her rental bathroom: "This bathroom was the hottest of messes," she says. "Even after scrubbing for hours, it never felt clean."
The feeling made it hard to fully enjoy the space. "It was the kind of bathroom that reminded you—even when you were trying to soak in bubble bath bliss—that dozens of people before you had used this room for years," Keela says. Caulk was peeling, the walls were stained and mildewy, and the heater was rusty and misshapen—"and those were the glamorous features," Keela says. There were also paint drips everywhere and goo oozing from the peel-and-stick vinyl tiles. Yikes!
"I wanted to step into and out of this bathroom and still feel clean," Keela says. She also wanted the rental feel like hers, with a comfortable, homey touch—and she wanted to do it on a budget.
Keela did this entire project herself over the span of three years. She re-caulked the shower, re-covered the khaki grout in a white color for a fresh look, and scraped away all the old paint slops everywhere—all of which make the tub area look brand new, no re-tiling required. "Originally, I didn't love the khaki grout or the shower tile," Keela says. "But I was surprised to find that those tiles are actually quite pretty against bright white grout."
Over by the vanity, the biggest impact came from the new white-colored switch plates to replace the dated khaki ones, and Keela's restoration of the old baseboard heater. To get it looking new again, she removed as much old rust and paint as she could, hammered major dents out of the surface, and spray painted the housing white.
A new fixture suits the minimalist-meets-traditional vibe of the bathroom, and it came with a smart money-saving hack: "My landlord agreed to have their electrician change out my lighting if I paid for the fixture," Keela says.
Keela also made her own organization station for hair tools that helps minimize clutter. "One of my favorite features is the dedicated spot to hang my hot hair tools. They can be left out at arms length all the time, semi-corralled, without looking like a tangled mess," she says.
New peel-and-stick flooring goes a long way in making the bathroom feel bigger and brighter. Keela also painted the walls a fresh white, replaced the old mirror, and added in some fresh new accessories, too. Her whole project came together for just $257, and she feels confident that even when she moves out she'll have gotten her money's worth. "I chose neutral accessories that are likely to work well in the many different rentals I may inhabit in the future," Keela says. "Some may say that's boring, but my aesthetic is minimal and I've lived in over 10 rentals already, so it's a strategy that works for me."
Now, when the bathroom's clean it actually looks it. "I love how much cleaner, bigger, and brighter the room feels," Keela says. "And taking a bubble bath is enjoyable now."
Inspired? Submit your own project here.
Published at Wed, 16 Sep 2020 21:32:03 +0000